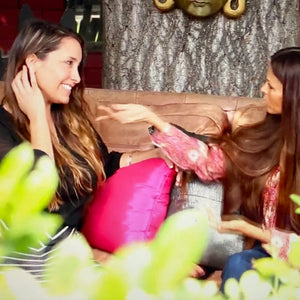 HairIntelligence™️
Hair Consultation- 90 mins.
Sale price Price $275.00 Regular price $275.00 Unit price / per

The consultation is designed to dive deep into your hair's specific intelligence to provide you with a personal regimen for regrowing thicker, longer and healthier hair. With over 25 years in the beauty industry, experience and an educational background in nutrition, I Intuit a protocol to activate your hair's natural healing ability and growth processes. 
Our chat is uniquely individualized as we begin by focusing on your main goals and desires. I will guide you through a 60 minute Skype session, where we target the root cause of any imbalance or simply discuss how to enhance and maintain it's natural radiance! I've curated this system to channel through information specific to my clients needs and assist them in growing hair they've only dreamt of. This is hair revolutionized through a meld of basic practices, ancient wisdom, and earthbound healing and astrology. I gaze at your Birth Chart and there I can see many details about your hair Like how you feel about your hair or even challenges and solutions.
PAYMENT PLANS AVAILABLE
(60- min. -Live on Skype Video )
I also now offer Hair Consultations in video webinar form! If you prefer it ,then send a message along with your Hair Consultation purchase. I give you all the details you will need to get started! Reach out if you prefer a video webinar to : kpurebeauty247@gmail.com
Feel free to contact me to discuss : 310-922-2342
Click here to see 30 and 90 day programs🌱
I cant wait to meet you !! Click here to email me or I will be in contact with you within 24 hours.
Shipping and handling may take 2 to 4 weeks. Everything is made fresh upon order for your satisfaction.